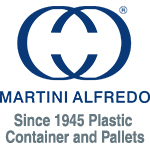 MARTINI ALFREDO spa
Pallets
Via Centro Ind. Europeo 43 - 22078 Turate CO
Telefono 02/963941 - Fax 02/
Contenitori e Pallet in plastica
Martini Alfredo S.p.A. azienda leader in Italia produce da 75 anni contenitori e pallet in plastica. Fondata nel 1945 dall'Ing. Alfredo Martini, prosegue l'attività grazie all'impegno e alla determinazione della figlia Cristina. L'impiego costante di tecnologie evolute, collaudi rigorosi e materiali innovativi conferisce ai contenitori Martini affidabilità e sicurezza in ogni condizione d'uso. Molto attenti alle esigenze e alle richieste del mercato offriamo una vasta gamma di grandi contenitori, pallet, contenitori multiuso, contenitori detectabili per l'industria alimentare, cassettiere, scaffalature e pavimentazioni componibili, che garantisce una soluzione per ogni tipo di attività: commercio servizi, industria o artigianato.
Plastic Containers and Pallets
Martini Alfredo S.p.A. Italian leading Company has been producing plastic containers and pallets for 75 years. Founded in 1945 by MSc Eng. Alfredo Martini continues his activity thanks to the commitment and the determination of his daughter Cristina. The constant use of advanced technologies, strict testing and innovative materials give Martini containers reliability and safety in all conditions of use. Very close to the market's demand and needs, we offer a wide range of large containers, pallets, multi-purpose containers, detectable containers for the food industry, drawer units, shelving and modular flooring, which guarantees a solution for every type of activity: trade services, industry or craft.